It's really hot and humid in New York City — like the "sweat-the-second-you-get-outside" kind of heat. Gross.
So we were kind of confused when we spotted
Lady Gaga
rocking a bright-pink fur-like cape paired with black tights and major Brian Atwood heels while leaving Bergdorf Goodman in Manhattan on Tuesday — and not because it's eccentric, but because we don't know how she's wearing it all in this heat!
Apparently,
Kim Kardashian
is also weather-proof because on Tuesday night she
Tweeted a photo
of herself wearing head-to-toe winter gear, with the caption: "Fresh airport look…Celine leather sweat pants, Helmut Lang t shirt,
Kanye West
for Giuseppe Zanotti
heels
."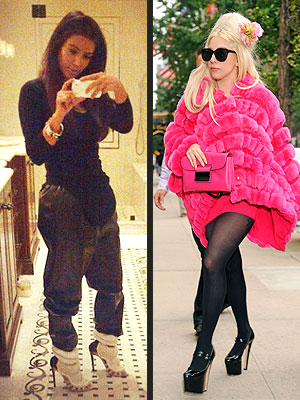 Now we know Los Angeles has pretty perfect weather, but it's not that cool over there in August. The long-sleeve top isn't all that unusual, but the leather sweatpants — isn't that an oxymoron?
Gaga
and the
reality queen
aren't the only stars donning
cold weather trends in the summer
. We've seen tons of starlets rocking bits of leather — like
shorts
or
tops
– on the red carpet in scorching temps, and we love it. But we have to ask the ones who bundle up in the heat: aren't you ladies hot? Literally, not you know, figuratively.
Tell us: What do you think of stars bundling up in the heat for the sake of fashion?
–Jennifer Cress